A digital audio convertor or DAC can convert digital audio signals into analogue signals to provide better sound quality. These are the Best DAC for gamers to get the most audio experience as audio is primarily forgotten in many gamer settings. A dedicated AMP or DAC should be a requirement for any serious audiophile.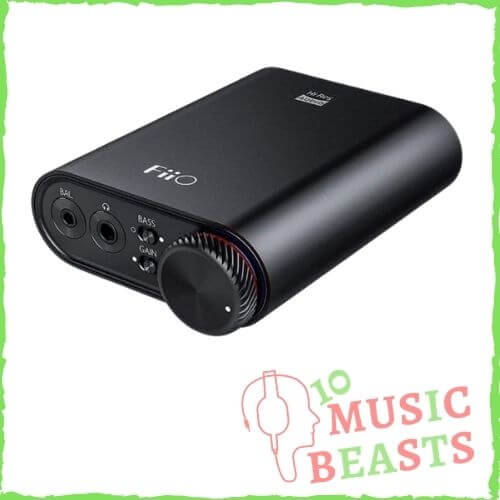 When it comes to gaming, all gamers focus on the visual aspect to get a whole experience that involves good audio quality. Let's upgrade the audio setup by choosing one of the best options available in the market.
Top 10 Best DAC for Gaming in 2022
A DAC takes the digital information of 0s to 1s from the audio device and converts it into an analogue to get a much more desirable audio experience. In addition to reducing internal device noise, it increases the bitrate of the audio output and provides crystal clear sound. Let's take a closer look at them.
1- Sound BlasterX G6
Sound BlasterX G6 is the highest-ranked product on the list. G6 is the updated version of BlasterX G5 to give a more enjoyable experience than the previous one to improve the audio immediately. The USB Sound card perfectly works with Xbox One, PC, Nintendo Switch, and PS4. It doesn't depend on the amp like a PC or console as it emphasises a comprehensive collection of connectivity options.
A Virtual 7.1 surround sound features, Scout Mode, Dolby Digital, game voice volume balancing, and sound enhancement technologies from Sound Blaster make this a powerful sound enhancement device.
Accurate Positioning
Support for 7.1 virtual surround sound and Dolby Digital decoding produces the opponents' gunshots, footsteps, and other audio cues in the games with remarkable accuracy.
Sidetone volume control
Upgrade the gaming moment on XBOX ONE, PC NINTENDO SWITCH, and PS4 as BlasterX G6 immediately enhanced the controller audio and bare motherboard enjoyment. It also offers gaming-centric features like easy-to-reach profile buttons and Sidetone volume control.
Dolby Digital Technology
The device allows enjoying virtual surround sound with Dolby Digital decoding that is perfect for movies and games. The gamers can enjoy audio customisation by improving audio realism with accurate cues, immersive 7.1 surround virtualisation, in-game voice communication improvements, and bass boost. Topping D50 is also a good option for digital technology.
Scout Mode and Discrete Headphone AMP
Activate the Scout Mode to give a distinct tactical advantage. This model has scout mode to magnify the in-game audio signals like enemy footsteps, gun-shot voices, etc. A custom-designed Xamp headphone amplifier quality features that discrete elements through all amplification stages in a bi-amp pattern.
Specifications
Dynamic Range: 130dB (A-weighted)
Dimensions: 4.37 x 0.94 x 2.76 inches
Weight: 7.1 ounces
Interface/Power: USB 2.0, USB Bus Powered
DAC Specs: 32-bit / 384 kHz
Amp Specs: Low output impedance 1Ω, up to 600Ω headphones
THD+N: ~0.0002%
Sampling Rate (DSP Playback): PCM 16/24/32-bit / 44.1, 48.0, 88.2, 96.0kHz
Sampling Rate (Direct Mode Playback): PCM 16/24/32-bit / 44.1, 48.0, 88.2, 96.0, 176.4, 192.0, 352.8, 384.0 kHz, DoP 24-bit / 176.4 , 352.4 kHz
2- Fiio E10K DAC
Fiio q1 mark ii is the portable DAC that improves the iPhone better sound but can't hit some intense competition. This DAC/AMP is tiny in structure, but it doesn't compromise functionality and not exactly small in sound. Being equipped with the XMOS allows it to maintain decoding of more setups with outstanding performance. It is competent to decoding up to 384 kHz /32 bit PCM and up to DSD256 (a green light indicates the latter).
The device comes with an exclusive package that contains interconnect (IC), two sets of stacking bands (regular and large sizes), a bolt of lightning to micro USB cable, and one stacking pad.
Volume knob
The Q1MkII uses a digitally-stepped volume adjustment that is supposed to decrease the difficulties of channel shortcoming. The digital volume adjustment produces very soft "clicking" sounds while setting the volume up or down during music playing. 
The volume knob is excellent, and the motion is smooth; it will not produce any clicking sound while turning the volume knob. 
Bass Boost
Q1MkII's bass boost is the actual reason for its popularity as it provides a substantial amount of mid + sub-bass. This bass boost reaches from 20Hz to 100Hz, before slowly falling off, but 125 Hz to 250 Hz is the range where the vocal could over thicken/muddy. 
This bass is decayed fast and polite, and it might not be impactful or weighty enough if the bass boosts off. 
Gain Switch
The high gain switch doesn't give a considerable volume increase from the low gain. Fiio stated that the volume among low and high gain is 5.7 dB for 3.5 mm out and 5.9 dB for 2.5 mm Balanced out.
The Amp is moderately clean with the background noise, even on extreme gain. 
Usability and Compatibility
This DAC/Amp is easy to use with Apple devices. Just plug, play, and enjoy the better sound quality. Remember, the Q1MkII will not drain the Apple smartphone's battery and use its battery power instead.
SOUND QUALITY
The Fiio Q1MkII is more musical as a DAC than technical. The vocal sound/music is clear and natural as it takes to a very slightly warm sound signature. The IEM itself adds unwanted bloat while it detects the wrong frequencies.
As an Amplifier, the amp tends to append mid-bass and lower-mid warmth to the sound. 
Specifications
Dimension: 3.9 x 0.47 x 2.32 inches
Weight: 3.56 ounces
Audio Input: Micro USB/3.5 mm Jack
Input/Output: 3.5 mm Input and Output, 2.5 mm Balanced Output
Digital In (USB/OTG DAC)
DAC Chip: Single AKM4452
Amplifier Chip: OPA1662 (low-pass) and OPA926
Max recommended sampling rate: Up to 384kHz/32bit PCM and DSD256
Output Impedance: <2 ohms (2.5mm balanced out) and <1.2 ohms (3.5mm out)
1 LR44 battery required.
Decoding up to 384 kHz /32 bit PCM
3- FiiO K3 USB DAC
FiiO K3 USB DAC is also from FIIO; it a compact and simple design that comes with all necessary accessories like USB cable, Type-C to standard USB A, few adhesive pads. It combines strong materials into a thick and compact design with a sleek all-black coating. K3 is well designed with inputs and outputs with various switches. The device can decode up to 384kHz/32 bit PCM and native DSD256 as it is equipped with an XMOS U30881C10 USB receiver chip.
The aggregate of high-performance AKM AK4452 DAC at very low-distortion op-amps OPA926x2 offers outstanding performance. There are different connection options for different situations: 3.5mm line out, 2.5mm balanced headphone jacks, 3.5mm single-ended, Coaxial, and Optical digital outs.
Specifications
Dimensions: 2.76 x 2.28 x 0.87 inches
Volume Knob: ADC
USB Audio: USB 1.0/ USB 2.0
USB Driver: ASIO/KS/DS/WASAPI/DSD DOP NATIVE
Optical output: UP TO 96KHZ
Bass Boost: 0/+6dB
Drive Ability:16-150 Ω
Supports up to 384kHz/32bit
Output Power 1(3.5mm headphone output):220mW(16Ω); 120mW(32Ω).
Output Power 2(2.5mm headphone output):320mW(16Ω); 200mW(32Ω)
4- FiiO K5 Pro –

Amplifier for Home
The K5 Pro is the perfect unit for home use as it is equipped with AKM's AK4493EQ DAC chips. It is primarily known for its pleasant, smooth sound due to low distortion and high signal-to-noise ratio. It offers audio up to 768kHz/32-bit sampling frequencies, and bit-depths are sustained, as well as local DSD.

The ADC Volume control is one of the best features of this product. Volume control reduces channel volume irregularities and allows for a smooth volume for more advanced and more accurate degrees to boost headphones.
Specifications
Dimensions: 4.72 x 1.97 x 5.12 inches
Weight: 15.4 ounces
AK4493 DAC chips
Supporting up to 768kHz/32bit and native DSD
48kHz and Below: Blue light flashing
48kHz and above: Yellow light flashing
DSD: Greenlight flashing
Gain: Low 0db/Medium+6db/High+10db
TPA6120 op-amp and the OPA1642 JEFT op-amp
RCA line-in +6.34mm(1/4 in.)
Power output: up to 1.5 W under a 32Ω load, and up to 20Vpp at 300Ω
5- Audioengine D1 
The D1 is a premium DAC and headphone amplifier for TV and computers that bypass the headphone output or computer's sound card and send audio through optical or USB. It offers high performance, which has multiple quality features like USB and optical inputs, desktop or portable DAC, stream bit-perfect 24/96 HD audio, use with Mac or PC. And it doesn't require any driver to install.

There are 2 foot USB cable, 24-bit DAC/Headphone Amp, microfiber bag, and setup guide included in the package.
Specifications
Product dimensions: 3.5×3.75×1″ (89x95x25mm)
Weight: 1.0lbs (0.5kg)
DAC type: USB and Optical
Inputs: USB audio, SPDIF Optical
D/A converter: AKM4396
USB transfer mode: Asynchronous dual clock
USB controller: TI1020B
USB device class: Type 1.1 or above
Full-scale output level: 2.0V RMS
Output impedance: 2 ohms
Input bit depth: 16 bit, 24 bit
Input sample rate (USB): 32kHz-96kHz native playback, 188.2kHz & 192kHz re-sampled to 96kHz
Input sample rate (optical): 32kHz-192kHz native playback
Outputs: Analog RCA L/R stereo, Analog 3.5mm mini-jack stereo
SNR: (DC to 20 kHz) >110dB
THD+N: (1kHz FS 96kS/s) <0.0025%
Recommended headphone impedance range: 10 ohms to 600 ohms
Headphone amplifier: OPA2134
Optical receiver: CS8416
Frequency response: 10Hz-25KHz (+/- 0.5dB)
Crosstalk: -85db
Input bit depth: 16 bit, 24 bit
Operating Temperature: 32 to 95 degrees F
Non-operating Temp: -4 to 113 degrees F
Relative Humidity: 5% to 95% non-condensing
Input sample rate (USB): 32kHz-96kHz native playback, 188.2kHz & 192kHz re-sampled to 96kHz
Input sample rate (optical): 32kHz-192kHz native playback
Power requirement: USB 5V DC, 200mA
USB power filtering: 2-stage redundant regulation
6- Creative Sound Blaster
The Sound Blaster E3 is an HD headphone amplifier that enhances audio quality with its Bluetooth functionality. It offers high-quality audio performance with wireless music streaming for intelligent devices. The E3 is a headphone amplifier and USB Dac with a Bluetooth connection for smartphones and tablets.

The Sound Blaster has a 600ohm headphone amplifier and 112dB DAC to ensure the highest grade's audio fidelity.
Specifications
Dimension: 4.13 x 1.85 x 5.51 inches
Weight: 4.8 ounces
Headphones up to 600 ohm
112dB DAC
Bluetooth audio streaming: Up to 8 hours
Analog audio playback: 17 hours
Micro USB-to-USB cable (length 3.28ft)
4-Pole analog cable (length 2.62 ft)
SBX Pro Studio: PC / MAC
Max playback quality USB 2.0 (PC / Mac): up to 24-bit / 96KHz
Streaming Audio via USB (mobile): up to 24-bit / 48KHz
Max recording quality: 24-bit / 48KHz
Connector: microUSB (PIC32MX)
Headphone Output: 1x 3.5mm jack
Headphone Output / Microphone Input: 1 x 3.5mm jack
Line Input: 1 x 3.5mm jack (4-pin)
Operating Range: Up to 10 m
7-

Syba Sonic –

Stereo Headphone Amplifier
The Syba Sonic is one of the best Stereo Headphone Amplifiers with an intelligent noise reduction chip to filter noise and produce high-fidelity sound quality. It allows the audio quality to be enjoyed as it has a studio's recording standard with higher than CD sound quality up to 24bit/96KHZ.

There are a Support Microphone + headphones to solve computer sound card damage.
Specification
Dimensions: L 4.00 × W 4.00 × H 3.75 in
Weight: 0.88lb
Operation Amplifier: TI LM4562 x1
Sampling Rate: 24bit/96KHz (Max.)
(6.3mm) Stereo Headphone Jack
3.5mm Mini Stereo Headphone Jack
2.03.5mm Input Analog Microphone
Analog Line-in (Stereo) Up to 24bit/96KHz)
RCA Analog Output (Stereo)1/4″
44.1 kHz Playback/Recording Sampling Rate
48 kHz Playback/Recording Sampling Rate
96 kHz Playback/Recording Sampling Rate
8- Micca OriGen G2 – High-Resolution USB DAC
The Micca OriGen G2 is a digital audio playback device that offers high-resolution PCM audio up to 24-bit/192kHz. Its powerful preamp and headphone amplifier are suitable for compact desktop computer audio systems with powered headphones and monitors. Use the OriGen+ to avoid a computer's sound card and unlock the music library's full sonic potential.
Unique audio stream interface support involves both WASAPI Push/Event and ASIO output modes. The analogue section provides headphone output or switchable line-level by utilising JRC NJM4556 op-amps with two output gain levels, 1.7Vrms, and 5.6Vrms.
Specifications
Dimension: 4.6 x 2 x 1.9 inches

Weight: 6 ounces

Output gain levels: 5.6Vrms and 1.7Vrms

0.5 Ohm output impedance 

16-600 Ohm headphones

PCM audio up to 24-bit/192kHz

Audio controller: 2.0 High-Speed 480Mbps
9- FX Audio DAC-X6
FX-AUDIO-DAC-X has a standard input interface that is easy to use. Plug it with a computer through an optical cable or USB cable. It doesn't require any software or tool to install it. The unit shows up in Windows' Playback Devices as it has SPDIF Interface. There are many advanced features like USB/coaxial, optical fibre, standard RCA interface, Line level output, and many more.
Specifications
Package Weight: 500g
Standard Input Interface: Fiber optic, PC USB / coaxial
Standard output interface: 6.35mm headphone output
Line level output: RMS 2V
Distortion: ≤0. 001%
Frequency Response: 20hz-20khz
Perfect driving 32Ω-600Ω headphones
Output power: 90mw / 600Ω, 180mw / 300Ω, 450mw / 100Ω, 610mw / 62Ω, 910mw / 32Ω,
1000mw / 16Ω
SNR: ≥105dB
Adapter USES voltage: 100-240ACV
Adapter Voltage: 100-240ACV
Adapter output voltage: Dc12V 1A above
Machine dimensions: 146mm x 98mm x35mm
10-

Sennheiser GSX 300 –

Audio Gaming Amplifier for PC
GSX 300 takes the gaming experience to another level by providing high-resolution audio in stereo. The EPOS Gaming is compatible with its 7.1 surround algorithm and advanced digital music processing.
GSX 300 allows the customisation of sound profiles; it also offers advanced noise cancellation controls to improve acoustic accuracy and reduce background noise for enhanced microphone control.
The unit has a simple and intuitive design that comes with integrated hardware to control the gaming volume. There are customisable intelligent buttons to toggle between profiles or modes.
Specifications
Dimentions: 2.24 x 6.65 x 5.59 inches

Weight: 0.50 lbs

Color: BLACK

16 bit / 48 kHz 7.1 surround sound

High resolution 24 bit / 96 kHz stereo

2 year Sennheiser/EPOS warranty
FAQ'S
What is DAC ad headphone AMP?
Headphone amps and DACS (digital-analogue converter) allow you to play and listen to audio files or digital files via headphones. It offers audio clear and sharp to enjoy the game. Due to the high impedance that quality headphones require, a solid amp or DAC must dress the most from the audio.
How do Headphone Amps and DACs Work?
Music or other audio files saved in a system or computer are kept in a specific format. Usually, those files are formed of binary digital data (think 1s and 0s) that need turning to analogue format to play through Headphones. So this is the situation where digital-to-analogue converter or DAC comes to play its role. It decodes the audio file, like mp3, and plays it to understand voice better.
How to Use a DAC and Headphone Amp?
Luckily it's not as much complicated as it looks. Unusual DACs require some installation, while some don't need any installation. Most options in the list connect via USB Connector. And the manual guide is also available to give away to use. 
Conclusion
Understanding what type of amp and DAC should get is the main point. Without this, nobody can make a great choice. Consider the headphones' impedance and sensitivity levels to give an idea of what should buy or whatnot. Check out the Headphone Power Calculator and Compare the required power levels with the unit's specification t get the most suitable device. Sound BlasterX G6 is on the top of the list and highly recommended device by professionals. But besides this, there are some key features that you should notice while buying a DAC for gaming. Let's have a look.
Control options

Compatibility

Price

Single unit, or separate amp and DAC

Brand & manufacturer

Type & Size
But keep in mind these top 10 lists to find the best DAC.